Typesense Cloud Reaches 1 Billion Searches Per Month
TLDR Jason announces that Typesense Cloud now serves 1 billion searches per month, highlighting the platform's growth and the team's accomplishments. Users congratulate the team and share their excitement.
Powered by Struct AI

7

6
Jun 07, 2023 (6 months ago)
Jason

@channel
I'm excited to share that we now serve
1 BILLION
searches per month in Typesense Cloud!
🤯
🤯
I am equal-parts thrilled & mind-blown thinking about this scale.
When we hit 500M searches per month in February, I thought that was amazing!
And 4 months later we're double that volume!
🎉
:partying_face:
It's also amazing to think that code we all write is helping so many people find what they're looking for.
Thank you everyone
@here
for trusting us with your core search infrastructure, and for all the feedback you've given us. You've helped shape Typesense / Cloud into the product it is today.
🙏
Here's to the next billion searches
🥂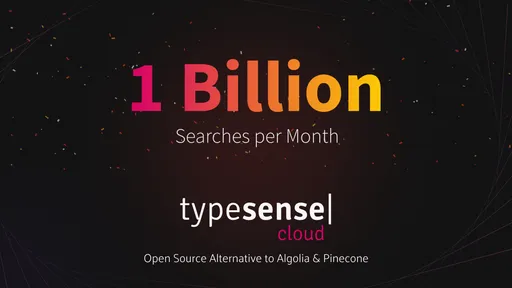 7

6
A

Shaun

Emma

Ovais

Christopher

This is a big accomplishment. Nice work!
Mischa

Jun 08, 2023 (6 months ago)
Arun

Gorkem

Congrats! Interesting to see Pinecone next to Algolia :)
Ivy

Manish

Congrats, Jason Kishore Nallan and team!