Typesense Cloud Filter Expression Issue
TLDR Samuel experienced a "Filter expression is not valid" error on a previously working query. Kishore Nallan assisted in troubleshooting and discovered it was a Scoped Search token formatting issue on Samuel's end.
Powered by Struct AI
Jun 09, 2023 (6 months ago)
Samuel

Hello
👋
, we use typesense already for some time but strangely this morning we started to get
Filter expression is not valid.
on queries we didn't change in any way
08:46
Is there any outage or were clusters upgraded ? We are using typesense cloud
Kishore Nallan

👋
Please DM me your cluster ID.
08:48
No changes to the cluster configuration.
Samuel

Thanks for info - is there any way to learn more what is wrong with filter expression ? Any logs ?
08:50
I have only simple filter_by expression which worked until now (we really didn't do any change to code) for past week
08:50

Kishore Nallan

One reason this could happen is if your filter expression is really long. We have some limitations on the size to prevent abuse.
08:50
Hmm that looks fine to me. Are you able to reproduce the issue on Typesense Cloud UI for that collection?
Samuel

I'm not sure how to write such query in typesense UI
08:52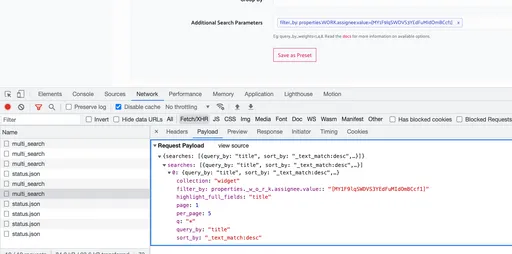 08:52
ah sorry now I see Facet & Filter By field
Kishore Nallan

Go to the console:
https://cloud.typesense.org/clusters/<CLUSTER_ID>/collections/<COLL_NAME>/documents/search
Samuel

sorry again, how I should put that filter_by into that input?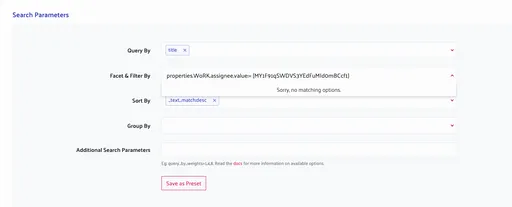 Kishore Nallan

Wait, you can just add the filter by expression as additional params at the last
08:57
Paste the filter clause for me, I can try as well
Samuel

filter_by: properties.WORK.assignee.value:=[MY1F91qSWDVS3YEdFuMId0mBCcf1]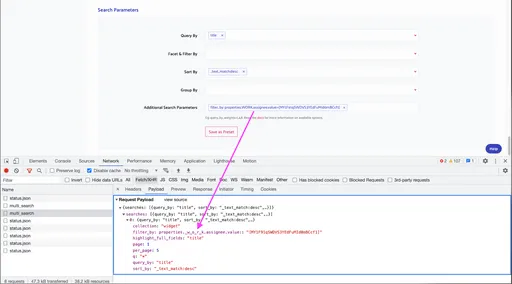 Kishore Nallan

Correct format is:
filter_by=properties.WORK.assignee.value:=[MY1F91qSWDVS3YEdFuMId0mBCcf1]
But the UI I think is having trouble with that. I tried
filter_by=properties.WORK.assignee.value:[MY1F91qSWDVS3YEdFuMId0mBCcf1]
which works but returns no results. Let me try against your API directly. Can I have your permission for that?
Samuel

Sure thing, you have permission to do that
Kishore Nallan

Ok when I run, I don't get an error, but I get no documents
Samuel

Oh no, I'm very sorry I probably know where is the problem
09:03
we are creating Scoped Search token for ability to do per-user filter
09:03
and there is probably issue with format of that token -> and It's not obvious as It's not included in actual query but hashed
Kishore Nallan

Samuel

so I made a mistake and thought that It's not an issue on our side
09:04
I'm very sorry for taking your time
Kishore Nallan

No worries, you did bring out a quirk with the Cloud UI. We will take that up!
Samuel

also grateful for your support
Kishore Nallan

Samuel