Troubleshooting Errors in Joining Collections with Typesense
TLDR sahubar had errors joining collections in Typesense version 0.25.1. Jason suggested upgrading to 0.26.0.rc24.
Powered by Struct AI
Oct 18, 2023 (1 month ago)
sahubar

Hi Jason / Kishore Nallan
Greeting of the day
I encounter errors when attempting to join collections as described below.
Kishore Nallan

What version of Typesense server are you using? Can you please post a fully reproduceable example that I can run to see the error?
sahubar

We are currently using Typesense version 0.25.1. I have attached a screenshot for your reference.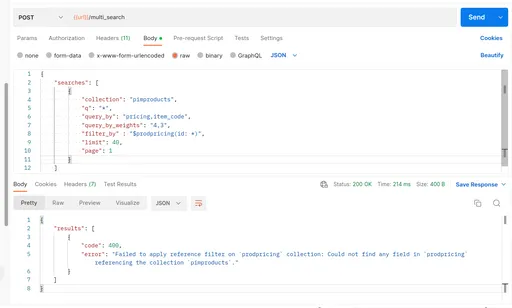 Kishore Nallan

0.25.1 doesn't support joins
sahubar

Kishore Nallan Which version should I upgrade to?"
Jason

0.26.0.rc24 is the latest RC build which has support for joins