Multiple Filters and JSON Requests in Typesense
TLDR Manish asked about multiple filter_by arguments, JSON input, and using multisearch. Jason offered typesense documentation links, examples, and how to use JSON formatted requests with multisearch. Ed shared a similar use case.
Powered by Struct AI
Jun 16, 2023 (6 months ago)
Manish

05:43
Also, if all of the filter_bys are done via url params, then how do you run "&&", etc., mentioned elsewhere?
Jason

You can use any complex expressions in filter_by. Eg:
filter_by: field1:=a && field2:=b
05:46
You want urlencode the value of the filter_by parametr
Manish

I see. let me try that. It would be good to have an example of this in the docs.
Jason

Manish

I saw that. But, I think having an example with the full query params, is what I was looking for.
Jason

05:52
There's also a way to automatically have curl urlencode the parameters
Manish

is there a way to pass these arguments as JSON? My list of arguments is getting long and cumbersome
Jason

05:59
You can send a single search into it, even though it's called multi-search
Manish

and it would take these as well? exclude_fields, highlight_fields, per_page, etc.?
Jason

Yup, any search parameters
Manish

cool, let me try that. Should simplify.
06:14
Ahh... So much better with JSON! No weird URL encoding stuff.
Ed

I have an interesting use case and looking at multisearch [although just working on the idea now]
I have a search query [free text], example Operations Manager
Filters: employment-type = 'full-time', job-type='remote', country = 'Germany'
these are all facets with counts on them.
Naturally when you pick a filter - example full time, the count for all other employment-types is set to 0. I need to be able to show the count for part-time aswell even though you clicked on 'full-time', also other filters now would reflect the total count, example, job-type now has only 10 full-time jobs that are of job-type = remote.

The idea is to send another query to get facet counts using existing query + filters, except for the ones you're active on, example on the employment-type.

This query would look like this:
search: Operations Manager,
Filters: job-type = 'remote', country = 'Germany'
You see I purposely didn't include the 'employment-type' filter, this way it would me facet counts for full-time and part time.
09:15
am I headed on the right direction here?
Jason

Yup, that's the exact approach you want to take
09:16
Here's an example of this in action:
https://ecommerce-store.typesense.org/
If you open the browser dev console, and then the network tab, then click on some of the filters, you'll see the type of queries generated inside the multi-search request
Ed

but to improve the response time these can be done in one http request?
Jason

Correct, that's the multi_search endpoint
Ed

09:20
what size cluster does this run on?
Jason

That example runs on a cluster that has a few other indices as well - 32GB RAM, 4vCPUs, SDN (in Oregon, Frankfurt, Mumbai)
09:22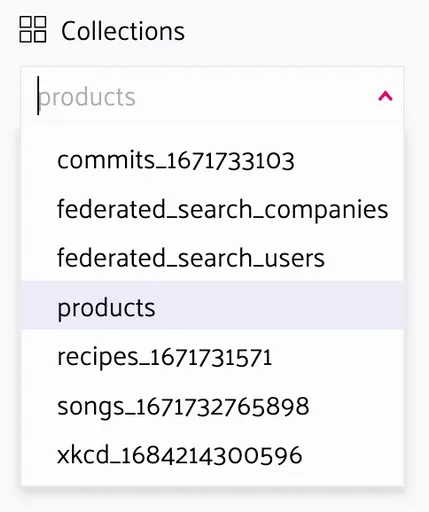 09:23
Probably has around 34M records across all collections
09:23
The products collection itself is tiny - probably 50MB
Ed

Jason

Yup, even 0.5GB RAM should be sufficient
Ed

Jun 20, 2023 (5 months ago)
Manish

This stumped me -- the query_by parameter is outside the JSON, while all the rest of them are within the JSON. Why?
Jason

That's just an example of how you can set parameters common to all searches as query parameters. And you can override individual search parameters inside the JSON
04:24
You can just leave out query_by in the query parameter if you don't need this mechanism
Manish

So, query_by can be inside the JSON as well?
Jason

Manish

Hmm... maybe I missed it. Would be good to have a full example of all the possible parameters / keys possible in a JSON request to TS.
Jason

04:26
Essentially, you want to think of a multi_search request as a batch of individual search requests
Manish

Yeah, there's reference. And there are full examples. I think it would be good to expand the documentation with lots of examples.