Limiting Irrelevant Responses in Q&A System
TLDR Gio asked how to limit irrelevant answers, and Kishore Nallan suggested using a threshold on vector_distance value to determine similarity.
Powered by Struct AI
Feb 28, 2023 (9 months ago)
Gio

Would you shed some light on this one too? How would I limit such cases?

My collection consists of 3 paragraphs off of Wikipedia about the war in Ukraine.
Obviously it won't have an answer about how old I am. I'd love to return something like "it is an irrelevant question" or "I couldn't find an answer"…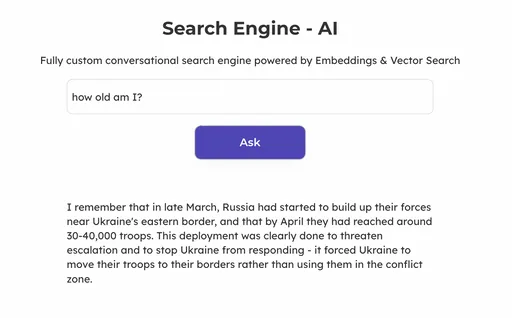 Kishore Nallan

You can look at the vector_distance value in the response and have some threshold for determining if it's way out of similarity domain.
Mar 03, 2023 (9 months ago)
Gio

Kishore Nallan how much would be 'way out of similarity'?
Mar 04, 2023 (9 months ago)
Kishore Nallan

The distance value returned is between 0 to 2. Higher the distance, less similar. The actual threshold will depend on your dataset.