Ecommerce Search Engine with User-added Products
TLDR Max seeks advice on handling a boolean field showing if a product is already in a user's cart for an ecommerce search engine. Kishore Nallan suggests waiting for the future "join" feature to allow merging separate indexes at query time.
Powered by Struct AI
Mar 31, 2023 (8 months ago)
Max

Hi team, I have an ecommerce usecase, a classic ecommerce search engine I would say. So I have an index with all information for a product (title, description, image, price, stock, etc.). However, we have an additional feature where an user can see if he already has added a product from his search results into his shopping cart. This feature can be done on our front easily just by having a boolean "already_added" within the document fields. The problem is that we would need to have this boolean for each user (+30k users), and for each product (1M products). Eventhough putting everything into a single index would not affect performances, it would be a complicated mess to handle. I was thinking to have a global product index on one side, and on the other side, one "user personalized" index containing all products added for each user. Each time a user adds a product to his shopping cart, we update the user personalized index.
I would then, somehow (
😇
), do a multi index query or multi query to check if, for the current user, the products in his search results have already been added to shopping cart by adding a boolean. Is this possible ?
Kishore Nallan

👋
What you are describing is a need for a "join" feature. This way you can keep the user preference and product attributes as separate collections and then just join them at query time.
Good new: we're acutely aware of this need and have kicked off work to implement this feature. However, it's going to take some time before I can share a build for you to test it, given the scope and depth of the changes involved.
10:04
"going to take some time" == "month or two from now"
Max

Hi Kishore Nallan, well a few months is good news ! Happy to know this feature is in your backlog. In the meanwhile, I think I can just have the "classic ecommerce" index on one side, and on the other side a "user personnalized" index where a user_id has a list of product_id.
With a multi search query I can have the ecommerce products and a list of products already added for a specific user. I will be able to add a display to a product if this product within the query results has already been added. But do you confirm that I cannot exclude products already added (query1) from global product results (query 2) ?
Kishore Nallan

Only if you can do 2 queries, first to fetch the IDs and then to exclude via another query.
Max

Ok I am trying this

Once the JOIN feature is live on the engine, we will be able to do it with only one query ? My use case here is like a SQL LEFT OUTER JOIN
Kishore Nallan

Yes, you will query on product collection and then pull necessary fields from the "user_features" collection by joining on the product_id field which will be common to both collection.
Max

To avoid having to change structure when the JOIN feature is live, are you able to validate my current one ?

Screen 1 is a product document from product index
Screen 2 is a user document from user_feature index

With this structure, will I be able to exclude all product ids (added_products in user document) from query results in the product index ? All the added product ids from a user document IS EQUAL to a product index document id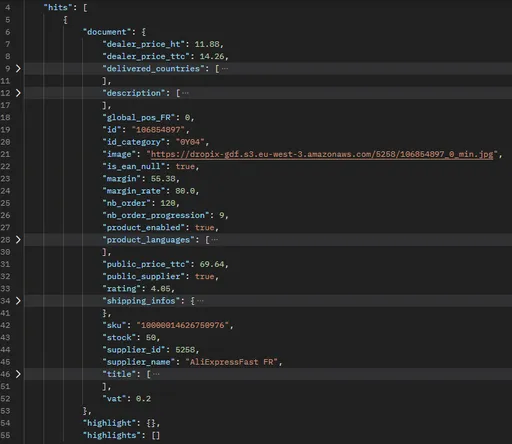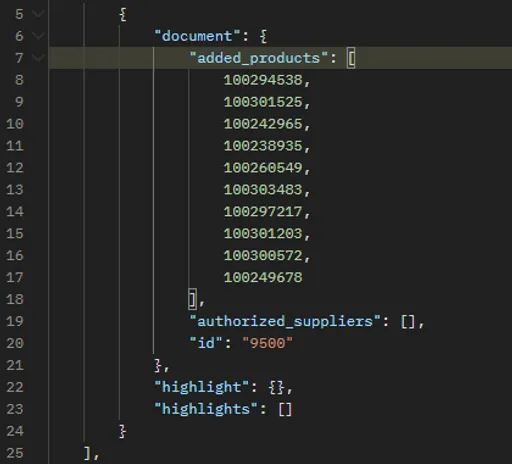 Kishore Nallan

The user features collection should be just user_id, document_id