Best Way to Manage User Favorites in a Video App
TLDR Jesse asked about effectively managing user favorite videos in an app. Kishore Nallan suggested using collection joins set to be supported in their next version.
Powered by Struct AI
Jul 28, 2023 (4 months ago)
Jesse

Hi all,

I am wanting to know if storing a large number of strings in an array is bad for an application like this?

Let's say that I have a video app, and I want the users to be able to favorite videos, then to later be able to search their favorites, would this be the best option?

I was thinking of creating a separate collection for each user with their favorites, but this could be bad as evetime the video is updated (or even deleted), I would have to update it in every user's collection (if I have 1,000,000 users favorite a video, and the title changes, I would have to update 1,000,000 times - once for each collection).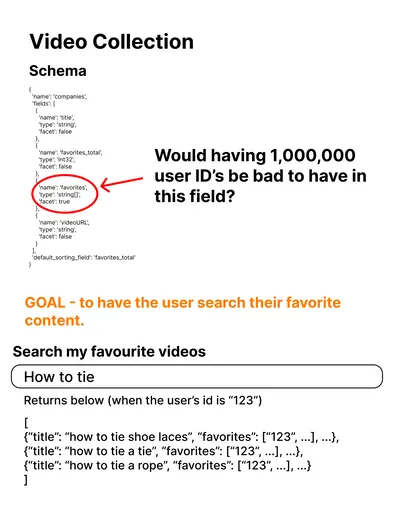 Kishore Nallan

Jesse

This is Awesome! I can't wait for it to be released!