Addressing CPU Utilization Spikes in Typesense Cluster
TLDR Jainil approached for causes and solutions to CPU spikes. Jason clarified and suggested sending 1k-5K records per import API call to mitigate issue.
Powered by Struct AI
Sep 07, 2023 (2 months ago)
Jainil

Is there any way to get insight as to what is causing the CPU utilization spikes in our typesense cluster?
06:02
Seems like there's occasional spikes, trying to figure out whats causing it, and best way to mitigate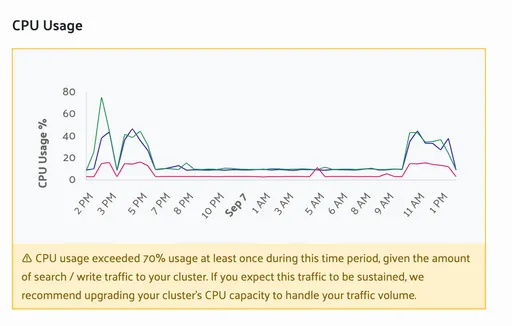 Jason

If it's indexing that's causing CPU spikes, you'll see corresponding increases in network traffic and may be pending write batches.

If it's search traffic that's causing CPU spikes, you'll see increases in searches per second and/or search latency
06:05
If that's your production cluster last 24 hr view, then it's write traffic that's causing the CPU spikes
Jainil

06:07
Would increasing the number of records/api request help mitigate? Or I believe I read somewhere that typesense internally batches records by 40 records. We currently send ~40 records/api request
Jason

Yeah, I'd recommend sending say 1k-5K records per import API call
Jainil