Typesense Java Contribution and Swagger Codegen Issue
TLDR Nathan had issues with the swagger codegen while contributing to a Typesense project. Kishore Nallan merged their api spec changes, and Nathan resolved the issue by adjusting their file copying method.
Powered by Struct AI
Jun 07, 2023 (4 months ago)
Nathan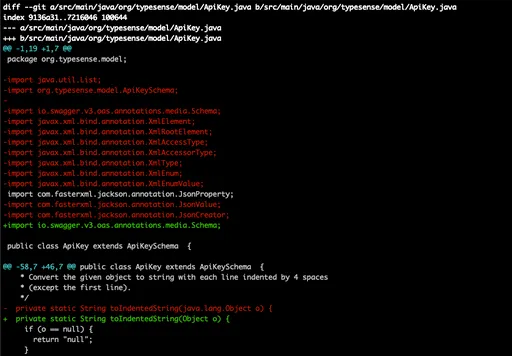 Jason

Nathan

Jun 08, 2023 (4 months ago)
Kishore Nallan

👋
I've merged the change to the spec. thanks!
> When I followed the swagger codegen instructions, it updated almost every single file as shown in the screenshot below. Is this expected?
I wonder if this because of a different version of the client generator being used or maybe the params used. I will document this and update this thread so you can try again.
Nathan

I figured out what happened here. It's just the way I copied the files over -- I did it within my IDE so it applied auto-formatting. It had nothing to do with the swagger generation jar.