Memory Usage Error with Typesense Cloud Service
TLDR Jeff.Cheng asked about an out-of-memory error with Typesense Cloud service. Kishore Nallan clarified how total memory usage is calculated, leading Jeff.Cheng to consider upgrading memory resources.
Powered by Struct AI
Aug 03, 2023 (2 months ago)
Jeff.Cheng

HiHi!
We use Typesense cloud service as our search engine, 2 GB RAM & 2 vCPUs,
and now we had inserted many data into a specific collection.
But 1 hours ago, our monitor system shows this error message
[Errno 422] Rejecting write: running out of resource type: OUT_OF_MEMORY
」
and cannot upsert our data into collection.
https://threads.typesense.org/kb/2Lac9
After checking threads.typesense post and the monitoring UI on typesense cloud,
we couldn't make sure that memory usage is above the threshold or not
(Like the image shows)
Can anyone help us to identify this question?
Thanks!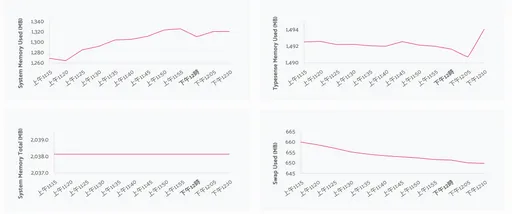 Kishore Nallan

Total memory usage is swap usage + memory consumed which is exceeding 2 GB here.
Jeff.Cheng

Got it. Thanks for the answer.
I'll talk to my colleague and consider upgrading memory resource ~